Dorothy Bernice (Clement) Skaggs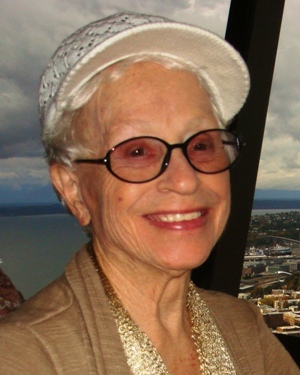 October 23, 1930 - May 17, 2014

Born in Yakima Washington on October 23, 1930, Dorothy lived her 83 years throughout Idaho, Oregon and Washington.

Dorothy worked as a school-bus driver in Bickleton Washington, as a fly-tyer for the Yakima Bait Company, and as the business manager of Skaggs Carpet Cleaning until retiring at age 60 to spend the next several years with her husband as full-time RVers. But her most important occupation was as a foster parent for hundreds of children over the course of 40+ years.

She married Donald Eugene Skaggs in 1947, and together they raised five adopted children to understand that we are all brothers and sisters in Christ, regardless of who our birth parents may have been, and that the blood of Jesus means much more than a bloodline ancestry.

She enjoyed camping, fishing and hunting with her husband, and was a talented seamstress, making quilts, blankets, clothing and wonderful knitted and crocheted crafts, especially for new children in the family. In her later years, she continued her nurturing ways, raising purebred Llasa Apso dogs and hand-raised cockatiels, parrots and songbirds.

Dorothy went peacefully to her Heavenly Father from a hospital bed in Richland Washington on May 17, 2014, following complications from a hospital acquired infection, which hastened her decline from chronic conditions of diabetes and heart failure. She is preceded in death by her brother, Loyd Clement, and her husband of 64 years, Donald Skaggs. She is survived by her sons Daniel Skaggs of Parma ID, David Skaggs of Yakima WA, Donavan Skaggs of Auburn WA, her daughters Delynda Stevens of Sandpoint ID and Debbie LaVelle of Kennewick WA, 17 grandchildren, 23 great-grandchildren, numerous nieces and nephews and innumerable foster children.

As her health rapidly declined, she accepted that her remaining time with us was short, and asked that we share these words...

" I want to send a message of love and grace, so that all my kids and grandkids would know that there is no problem too big, no hurt that can't be healed and nobody too broken that can't be forgiven. Jesus loves us just as we are."


Graveside services will be held at Tahoma Cemetery, 1802 Tahoma Ave. in Yakima on Friday, May 23 at 2pm.

The family suggests that instead of flowers, please consider a gift to Children's Home Society of Washington.


"Grandma's Treasure Box" (family photos)
Tribute Slideshow for Dorothy
Dorothy's 80th Birthday Video Tribute
Children's Home Society of Washington
Send a Message to the Family

Copyright 2014 - SkaggsFamily.net - All Rights Reserved